Menu
Number Nine
March 7-9 2015
Ecoplex Cinema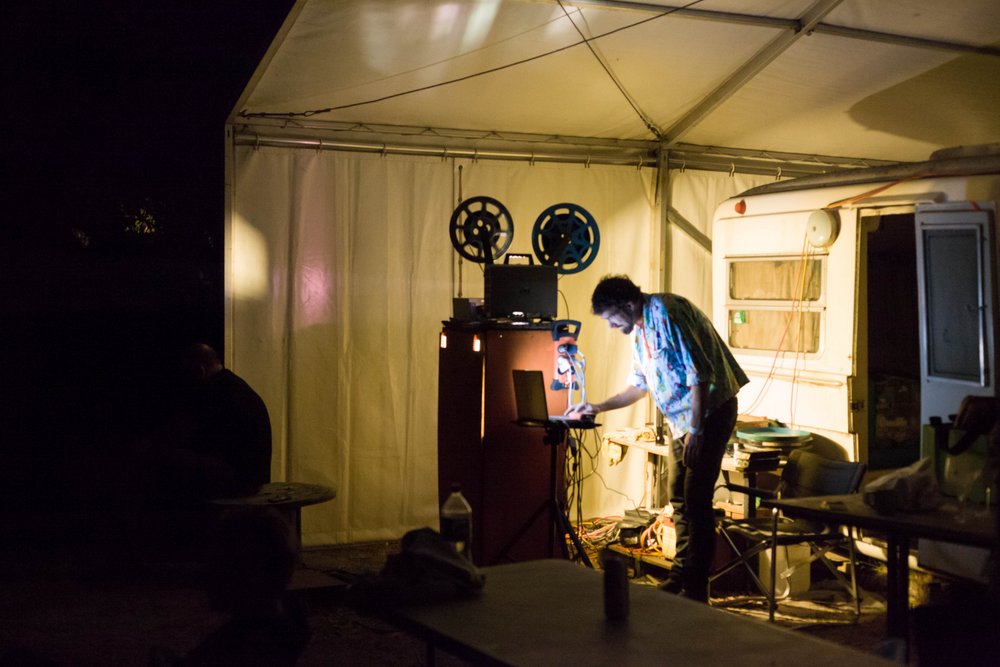 There is an Outdoor Cinema at the Meredith Supernatural Amphitheatre, in a magical grove of manna gums, with the natural canopy high overhead just sparse enough for the twinkling stars to shine through. What shows? That would be stuff that turned left at the lights, planted the foot and ripped the rear view mirror off, and then ate it.
The Ecoplex Cinema sits at the edge of Bush Camping, in the area known as "Africa". It consists of a large 6m x 6m screen purpose built between two ancient eucalypts, a six-speaker Super-Sonorama surround audio experience (which when coupled with Ultravision 3D effects and glasses REALLY puts you in the picture), and the action (or inaction) is projected by vintage 16mm gear out of a 1978 Jayco SuperTourer Caravan (with annex).
It's a setting for estranged dreams and endearing nightmares, a wonderland of neurosis that'll perch on your shoulder and follow you home. Programmed by Jim Knox, the material on show aims to 'enlarge the horizons of the viewer, provide wholesome entertainment, afford helpful stimulation, and remind of the responsibilities one has towards society'. It's non-aesthetic, dis-aesthetic, hypo-aesthetic and tasteless. It's Weimar Republic allowable. It's pre-censorship Soviet strange. It's new wave autistic. It's a recipe of indigestible ingredients that disconnects the senses from the language that makes sense of them.
---
IN OPTICALLY ENHANCED ULTRAVISION!!!
Only ULTRAVISION with SUPER-SONORAMA provides you that "you-are-in-the-middle-of-it-all" effect… Accept no substitutes! (not available in indoor hardtop-type cinemas – exclusive to the Meredith Supernatural Ecoplex…)
The Ecoplex runs basically all night, and is designed so you can drop in for a short or long while at any time – many of the films shown are indeed shorts so you don't need to set your watch for the start of a feature.
Saturday night: 9pm till late
Sunday night: 9pm till later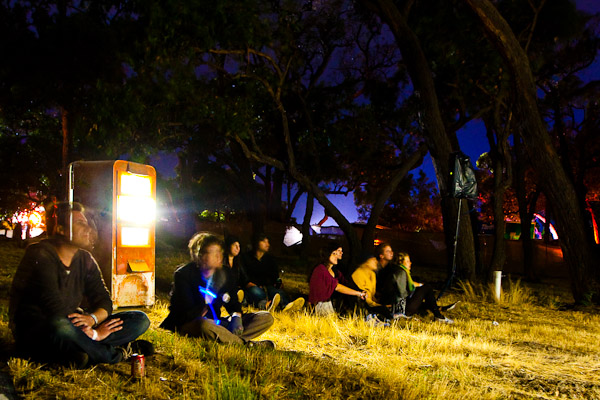 We swim the sewers of cinema now-and-past, to salvage unfamiliar objects of wonder and delight. Join us at the Ecoplex as we celebrate both new and misremembered (and damn strange, of course) instruments of celluloid enchantment…
This year's highlights include 'Once Upon a Tractor', a UN produced propaganda film about a farmer's journey to New York to get his hands on the tractor he's been promised. Its one and only review suggested that the film 'left the theatrical diving board without preliminary inquiry into the matter of swimming'. And a piece on the Even Orchestra, a group of filmmakers and performers outta Sydney who combine music, film and live sound effects.
Drop in for a little while, or a long while. It's Supernatural, it's impious scrub cinema. It's a must see attraction.
Roll yr peepers over the sandwich board at the Ecoplex caravan for more info and scheduled screening times…