Menu
Number Nine
March 7-9 2015
Meredith Town
Meredith the town is about 13kms from the festival site. It has two pubs, a cafe, a servo and a General Store amongst other things, like a nursery. To get to the festival from town, turn off the Midland Highway at the Royal Hotel (Staughton Street) and go past Morrow's Hotel till you get to the corner of Nolan Road. That's about it there.
Did you know:
½ a mile from the railway station there used to be a butter factory which opened in 1891 "the Meredith Creamery and Butter factory".
The Meredith Corner Store was built to house the Post Office around 1900.
The first Police Station was built in the Police Paddock to provide a base for the Mounted Police Troop. In 1853 Mr Bonsey, the local Land Commissioner had requested escorts for gold being carried from Buninyong to Geelong and to provide Law and Order on the emergency Steiglitz Goldfields.
Meredith was known as Watsons because William Watson had "The Golden Fleece Hotel" on the road between Geelong and Ballarat.
On your way through, why not consider dropping into one of the following local Meredith businesses:
---
Morrow's Meredith Hotel (the "top pub")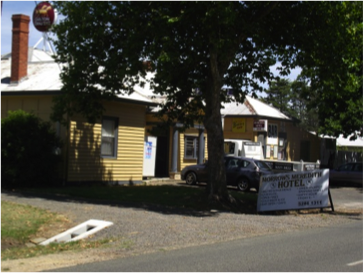 51 Staughton Street
See Steve and Kathy for meals, cigarettes, ice, and of course the bottleshop!
---
Meredith Corner Store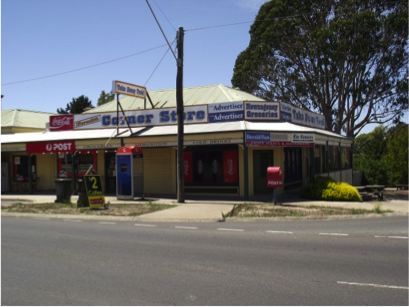 Cnr Staughton Street and Midland Highway
The Meredith Corner Store offers takeaway food, groceries, cigarettes, magazines and a post office to boot.
---
Foxy's Restaurant & Cafe
Midland Highway
Foxy's Restaurant provides eat-in and takeaway food, including pizza and fish'n'chips, and coffee, ice-cream and more.
---
The Royal Hotel (the "bottom pub")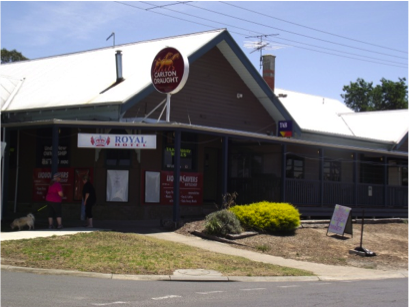 Cnr Staughton Street and Midland Highway
Damien and Claire invite you to visit the re-modelled and re-named Royal Hotel. Here you can get meals, cigarettes, ice, alcohol and put your bets on at the TAB.
---
Meredith Roadhouse
Midland Highway
A Festival institution, stop at the roadhouse for petrol, takeaway food, ice and more.
---
Meredith Nursery

8 Read Street
A great selection of keenly priced native plants, grasses and bare rooted fruit or specimen trees.
---
Woolabrai
4350 Midland Highway
See Patrick and Helen for a wide range of farm and hobby based merchandise.
---
 Kookaburra Cottage, Anakie
A country cottage retreat, accommodating up to 6 people. More information here.
---
Moranghurk Homestead
Staying at Moranghurk Homestead is a relaxing, no fuss experience even with a crowd. Tucking into a grand feast before bunking down in the Shearers' Quarters has a quality of its own.
---
During the Victorian bushfire season (November to April) it is important to follow this bushfire safety advice, to ensure that your visit to regional Victoria is safe and enjoyable.